YOUR DATA IS SECURE
Your privacy is of paramount importance to us; therefore, we have taken deliberate steps to safeguard it by creating a service that allows you to remain anonymous.
more...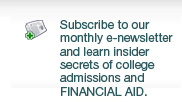 Invest a few minutes to obtain your customized report. Become an informed buyer of a college education and save on your college costs!
In the dataform, you will be asked a series of questions. Just like a doctor asks patients questions in order to make a proper diagnosis, the questions in the dataform are all intended to diagnose your situation. The answers to the questions will yield your customized report containing the actionable information that can help you better prepare and pay your college and save on your out-of-pocket college costs.


Three simple steps to helping you solve your college funding challenges:
Complete the online dataform. You can complete it now or download a hardcopy and re-enter the data later.
Purchase and download your custom report for only $29.99.
Use the actionable information in your custom report to help you make smart, well-informed college planning and funding decisions.