Helping Families Through the Minefield Of College Admissions and Financial Aid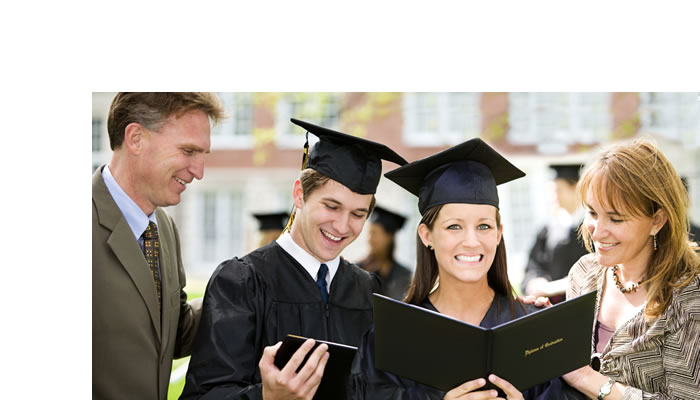 Collegiate Funding Solutions' Client Care Center
To fullfill our mission of helping you help your clients save ON the cost of a college education and so that you can be the one-stop-shop for college planning services, CFS offers a premier college admissions and financial aid service, available through you to your clients.
Testimonial from a client to her financial advisor concerning the Client Care Services:

"I wanted to thank the CFS Client Care Center for finding Franklin & Marshall for Caitlin. We never would have found it on our own. It seems a perfect fit for her, and I couldn't be happier that I found you and you recommended this invaluable service! I really hope that my other two teens are able to work with you when the time comes, as I have full confidence in what you do. I would happily serve as a reference for the Client Care Center anytime."

Video and Services Checklist
College Admissions Related Services
Premier Plus*
Premier
Standard
Do What You Are personality assessment --- identifies career paths and majors
Do What You Are results review (learning style; majors; learning, upcoming assessments)
ACT/SAT evaluation - Assessment to determine whether the SAT or the ACT is the best test to prep for testGear online self-study SMART Curriculum (if applicable) After taking the testGear BrainScan a personalized test prep course is created for those who prefer self-study
Career Video assignments --- The completed Do What You Are assessment provides short videos and detailed career information
Writing sample evaluated ---- Essays provide the college an insight into the way a student thinks. The coach needs to know this in advance
Resume Instruction --- This is referred to as a Brag Sheet. Student and parent help create a shining example of what the student has accomplished outside the classroom
Brag Sheet (maximum three drafts) --- Fine tuning is essential to produce a concise yet powerful resume of the students' accomplishments
College Web Site Research Instruction --- Students learn how to get the most out of their web research

self study

Letters of Recommendations meeting -- Strategies to help the recommender with a letter that shows off the student in the best light
Winning Essay Reading Assignments --- Students read and comment on essays that demonstrate what kinds of essays work and why

Essay examples provided – no follow up

Essay Components Tutorial (live) --- There are three necessary parts to an essay. Students must learn these to write a winning essay
Compile List of Colleges with Institutional Scholarships --- Student will be provided a targeted list of colleges based on academics, social environment and merit and need-based financial aid
Common Application Essay Prompts Review: Discussion of which essay prompt(s) are best for the student to write about
Common App Review: There are multiple sections to the Common Application. Over 500 colleges use this form and many colleges have their own supplemental admissions applications
Brainstorm Session of Essay Prompts: Brainstorming essay ideas --- The choice of prompt is just the first step. Ideas on content and approach are discussed
Essay Editing: Essay drafts edited (maximum three drafts each) --- includes personal statements
College Interview Prep: (if necessary) "How to Present Your Best Self"
Below are Financial Aid Forms Services as part of the three service levels
Premier Plus*
Premier
Standard
Personal College Family Web Account: Parents can see in real time what's been completed and what remains to be completed
Review of family information for accuracy
Obtain Federal Student Aid usernames and passwords: Used to sign the FAFSA and access all the Dept. of Education web sites
College Aid Requirements: Colleges use different forms and have varying financial aid deadlines.
Parents can view all the requirements in one place
Filing of the FAFSA: The instructions for filing the FAFSA are often very confusing. This form will be completed with 100% accuracy (based on the family's approval of their information)
Filing of the CSS/Profile® (if required): This form requires much more information than the FAFSA does. Instructions can be especially challenging and confusing to answer correctly and in the family's favor. Based on family's approval of their information, this form will be completed with 100% accuracy. Extra charges do apply: $16 registration fee and $9 per college payable to the College Board
Tax Update: The first filing of the FAFSA is based on estimates. Completed tax return information will be used to update the FAFSA
Merit Based Financial Aid Appeal: Parents will be provided sample letters of appeal to send to the college
Financial Aid Award Evaluation: We will determine if the student was awarded fairly by the college
IRS Data Retrieval Tool or IRS DRT: Many colleges require that the family verify their tax information by using the IRS DRT. However it doesn't always function correctly which can be very frustrating. This will be done automatically for the family
Financial Aid Award and Student/Parent Loan Teleconferences: Parents learn about how the awards are constructed and the benefits and burdens of student and parent loans
Need Based Financial Aid Appeal Service: Only included as part of the Premier and Premier Plus levels
Like what you see? Call 919-469-1996 or sign up